GODD Games is Back
Like America, goddgames.com is back — with a vengeance. We're taking the 21st century challenge, producing games with a difference.
The look is retro — that's not a misteak. We like the retro look of our engine, and we work hard to make it function as well as any modern engine, but to LOOK like an engine that's about thirty years old. The porch could use some dusting.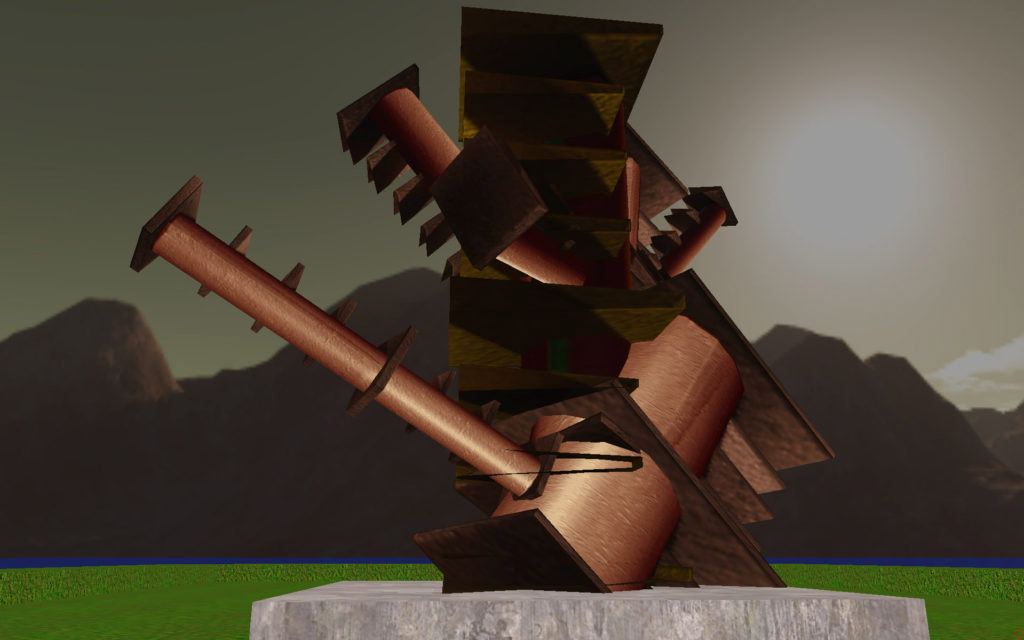 Massive Steel Sculpture was something I crafted up in Godd™
All the lessons we learned in miniature railway layouts led to the look we've achieved in our video games, and we cherish that look and strive to maintain it in the face of widespread indifference. Our games are all produced with one idea in mind — Good Gaming. That's the entire goal, the whole purpose, the entire plan, so let me roll out six of our hottest back titles first, to let you in on what's happening here:
Click on the picture above to get to the landing page on which this game is actively for sale, waiting for you to click on it and download it to your machine.
BardoTown Death Run is a 3d shooter that takes place in the Afterlife, as you run along darkened streets, confronted by a veritable army of horrible disgusting undead zombies — are there another kind?
The goal of the game is simple — to stay slightly less dead, while you're being pursued by the very dead — it's a delicate balance-game, but I know you can do it.
The movement and combat are very typical of our games — direct control with keyboard and mouse. What you do is what you get.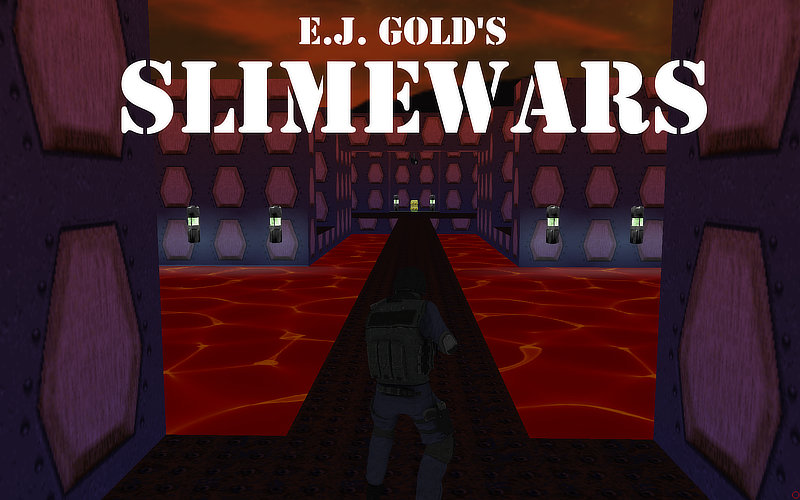 Now you're looking at one of my favorites — it's definitely the best PLAYING game we've made so far, although it's mind-numbingly simple.
Shoot everywhere in all directions until everything around you is dead. Simple enough, but it's in the — you should pardon the expression — "execution" where the proof is, indeed, in the pudding.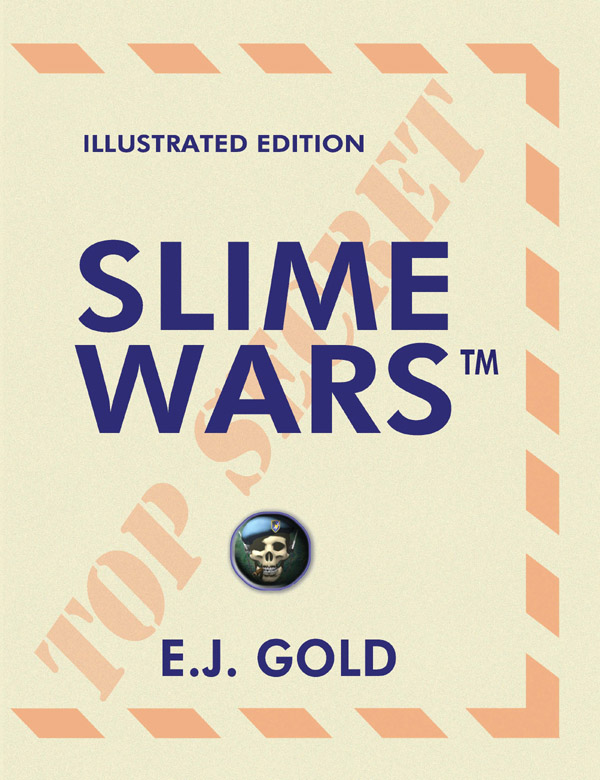 The backstory in SlimeWars is the book itself, an enormous volume that is, now that I think of it, available to the avid gamer:
Again, if you click on the image, it will take you there where you can buy this unusual book that predicts — accurately — all the events leading up to the 37th century, including this one.
The next game is a real nut-buster, and it plays more or less like DOOM, Wolfenstein and Rise of the Triad, all early games in the history of computer gaming on Planet Earth.
Of course, there are other markets, but those offworld gaming outlets make it hard to ship and even harder to warehouse. I have most of my goods stored on Mars, of course. Where else???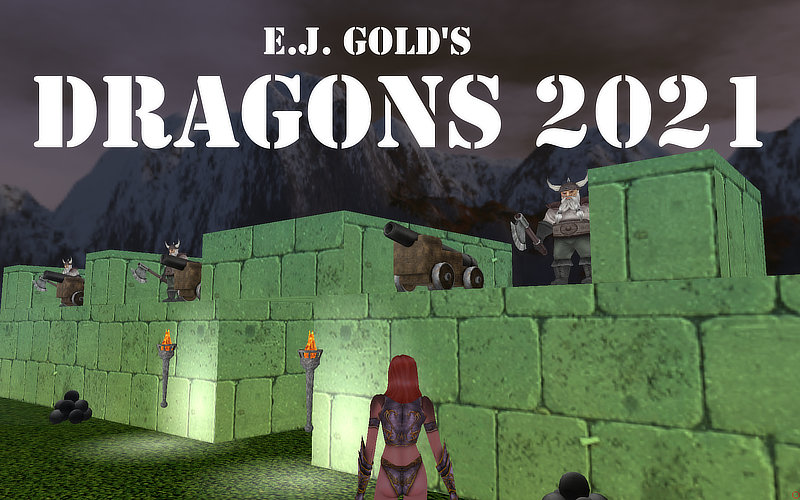 Dragon 3d was the first game I built, and it's got to be one of my favorites. The dragons were made by Claude, and they are amazing, especially in combat.
The twists and turns of the game field make the combat just that more difficult, and it's actually hard to get all the way through the game without dying at least a dozen times.
Of course, that's the point. You want some challenge, which helps you prepare for the challenges you meet every day in your ordinary life.
Compared to killing a dragon, nothing is quite that satisfying, so you're welcome to stay in the game as long as you like. You won't run out of dragons to slaughter.
FartBomb is a game idea that came to me when the kids were playing outside, and they made farting sounds as they aimed plastic guns at each other.
What? Of COURSE I gave my children toy guns. I had 'em when I was a kid, and no self-respecting kid can get along without a gun of some sort hanging in a plastic holster by the side.
Naturally, living in New York City as I did then, my guns were always the real thing. I found a .32 automatic buried in the dirt under the ivy, just outside our apartment building, and gave it to my cousin Howard, who lived in Massachussetts.
In New York City, we had the Sullivan Law of 29 May 1911, which forbade the importation of firearms into the city, and that law is still maintained — of course, it doesn't apply if you're attacking the capitol of a city, state or country.
Ghosthunter is crude, true, but boy, is it a hoot to play. You can jump, leap, roll about and zip around most everywhere, and you'll find hundreds of ghosts populating the landscape.
You won't run out of ghosts real soon, and success will elude you. You're bound to die at least once on this journey through the Apres-Vie.
The ghosts are "flatties" made by Claude to my specifications. They are rigged and animated, and are a sight to behold.
There are three variants of the ghost model, and I use all of them.
Tesla IV rounds out the picture at the moment, but I'm working day and night to bring out more games — I have some 25 games in queue, and I'm thinking about still more.
Tesla is the most challenging of this grouping of games — it requires that you actually pay attention to where you are and where you're going, a tall order for most folks these days.
The Tesla world is spooky and wild, and strange and exotic, and that's the way we like it, right?
Watch for my new goddgames channel on youtube, where I'll be hanging out all my new games for the world to see.
I'm counting on YOU to help promote them by getting folks to download them and try them out. Once they see how much FUN the retro games are, they won't go back.
My next upcoming game is "Mars Wars", in which you fight the invading Russian colonists in a Martian colony when a plague breaks out and they're forced out of their own base.
It's always something, isn't it?
See You At The Top!!!
gorby